"Why do I get pain under the front of my foot?" Plantar plate injuries explained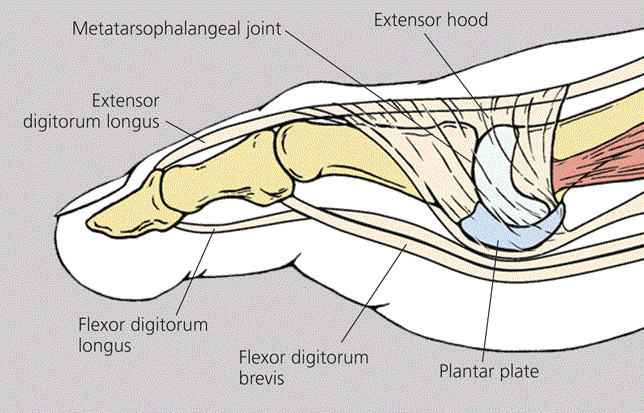 The plantar plate is a fibrocartilaginous tissue which is like a non stretchy band that sits along the base of the phalanges or toe bones and protects the metatarsal heads from pressure and overextension of the toes. It is very strong and durable and also works to stabilise the joints and keep the toes together so that they don't spread apart or drift.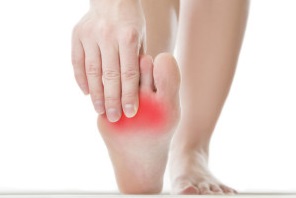 With a Plantar Plate injury there are some common symptoms that many patients experience including localised pain and swelling in the ball of the foot. The base of the 2nd toe is the most common site of injury so dorsiflexion or pushing the toe backwards will often re-create pain. In severe cases one of the toes may drift to the side or the toes may have spread apart showing a daylight sign. Clawed digits or hammertoes may also be present.
Risk factors
Most common in females with a 10:1 ratio of female to male,
Longer 2nd metatarsal or shorter 1st metatarsal
Hypermobile foot type
Bunions
Midfoot arthritis (ie top of the arch)
Higher heeled and/or narrow fitting shoes
Sports and activities that involve a lot of forefoot loading eg football, tennis, gymnastics and dancing
A consultation with a Podiatrist will help outline the above causes and bring them to your attention. The Podiatrist will also be able to assess further and look at biomechanical abnormalities such as flat feet, an ankle joint equinus,  step length, width and gait timing as well as pathologies that may affect gait that you as the patient may not even be aware are contributing to your pain or problem.
All of the above, whether it is a single or combination of risk factors will lead back to the main cause of plantar plate pathology- abnormal forefoot loading.
Treatment
There are a variety of treatment options available depending on the pain level, severity, duration and cause. Often a first line modification of reducing the activity level, icing, resting, changing to supportive footwear or applying a low dye strapping to tape down the toe can help as well as anti inflammatory medication in some patients. However, this is often just simply putting a bandaid on the problem and reducing pain short term. Once the anti inflammatory medications stop or shoes change back to what they were, pain will return. For long term relief often we need to look at and address the cause of the problem through the following methods-
-In shoe padding
A Podiatrist can implement deflective padding in footwear that will minimise weightbearing forces on the metatarsal heads and in particular offload the area where the plantar plate pathology lies. The padding can be inserted into good footwear that has a firm heel counter, wide toe box, firm sole and an ankle strap or shoe laces. Sometimes padding can also be adhered directly to the foot however it does need to stay dry and can therefore make showering a bit tricky.
-Immobilisation with a CAM Walker, Stiff Soled Shoe, Post Op Shoe
Immobilisation with a CAM Walker, stiff soled shoe or post op shoe is a great way to allow the plantar plate pathology to settle. Without rest and immobilisation the process can take much longer or even not settle at all. These shoes and boots work by taking the pressure off the ball of the foot and allowing the sole of the shoe, padding and strapping to facilitate walking and maintain even pressure distribution. When your arm is injured it is quite easy to place it in a sling and still go about daily activities without using it. Because we constantly use our legs and feet so much it is a lot harder to rest which is where these immobilisation aids are very helpful.
-Orthotics
Custom devices are made to fit the individuals foot and give balance, support and correction where needed. With an orthotic device we are able to control the rearfoot and the midfoot forces which may be contributing to the overload of the 2nd digit or ball of the foot.
The orthotics can incorporate specific padding with cut-outs and cushioning that is durable and long lasting. There are also a variety of top cover options that are padded for cushioning and support.
Orthotics are made following a thorough biomechanical assessment that allows the Podiatrist to generate a customised prescription.
-CSI
This is an injection depositing corticosteroid (cortisone) into the exact localised area of pain. It works to decrease inflammation and pain. The corticosteroid injection is given under ultrasound guidance to ensure that the needle is precisely inserted.
-Surgical Repairs
If all conservative measures have been trialled and not enough improvement or pain relief is seen then it may then be an option to get a surgical opinion.
Eastern Foot Care has a visiting consultant Specialist Podiatric Surgeon (Mr Simon Smith) who attends monthly at our Ringwood clinic. Our Podiatrists work in closely with Mr Smith, with Sports Podiatrist Nick Ryan assisting Mr Smith in his surgical cases in theatre.
We also have a network of Foot & Ankle Orthopaedic Surgeons who we routinely engage with when appropriate via liaising with GPs.
There are a number of surgical solutions for chronic plantar plate dysfunction and these can be discussed depending on a patients' individual circumstances. Generally, post-surgery there is a 4-8 week recovery where patients are required to stay off the foot and may need the aid of crutches, a surgical shoe or CAM Walker.
Needless to say the vast majority of patients with plantar plate pain do not require surgery as conservative strategies are often successful.
Our Podiatrists at Eastern Foot Care are experts and diagnosing all foot pain conditions. To see one of our Sports Podiatrists contact our reception team at Eastern Foot Care Podiatry Ringwood or Eastern Foot Care Podiatry Knox:
Eastern Foot Care Ringwood
27 Wantirna Rd, RINGWOOD
Ph: (03) 9870 1301

Eastern Foot Care Knox
5a/426 Burwood Hwy, WANTIRNA SOUTH (Knox)
Ph: (03) 9887 2233