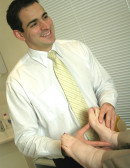 B (Podiatry), MHlthSc(Podiatry), AdvDipAppSc (Myotherapy), MAPodA, MAAPSM
Tony is an experienced podiatrist in all facets of podiatry and is noted in the area for his expertise in children's feet and sports injuries. He completed his Masters in Health Science (Podiatry) through the University of SA, a course focussed on evidence based practice in podiatry, with specialisation in paediatric podiatry, sports and pharmacology. Dr Massarotti has conducted many literature reviews, and written papers specifically on ankle injury management and prolotherapy, an area of specialisation that he has long had a keen interest in. He has also attended courses overseas in the evolving and emerging techniques in this area, as well as courses in foot and ankle manipulation.
Dr Massarotti has always been very committed to continuing education to maintain a high standard of delivery of podiatry services and the latest treatment techniques. He leads a team of highly qualified practitioners and supports their endeavour to do the same. Like Dr Massarotti , they are equally passionate in their pursuit for deeper knowledge through continuing education to provide the best patient care for those needing specialist attention.
Dr Massarotti has served on the board of the Australian Podiatry Association. He has also been an advisor to 'New Idea' on the topic of children's feet. Being an avid sportsman, he worked at Carlton Football Club and played NSL soccer in past years.